New to Beekeeping? Need help with your bees? What If There Was a Way for You to:
✓Learn what you need to know to keep bees happy and healthy
✓Have mentorship from two experienced beekeepers to guide you and answer all of your questions


Click HERE to Join Us!
Hi, we are Peter Cowin, the Bee Whisperer and Amy Nickerson, the Queen Bee, the founders of BEEKEEPING 24/7, and we are here to help you get started with beekeeping..

Don't let the fear of the unknown keep you from the amazing world of beekeeping!
Would you like to:
➔ Help the environment?
➔ Produce your own pure raw honey?
➔ Pollinate your garden
➔Immerse yourself in a stress-busting hobby and the wonders of nature?
If you answered YES, then you have come to the right place!
We have helped thousands of people get started in beekeeping with methods that have worked for us.
But how can you achieve that? BEEKEEPING 24/7 is an online beekeeping mentoring group designed to help new or struggling beekeepers get started and be successful in beekeeping.
Beekeeping is actually a lot easier than you think - simply by following the right strategy and step by step guidance you'll see results! This program is unlike anything you've tried before. We will be here to help you every step of the way.
Education
12 detailed beekeeping classes
Dozens of instructional videos
Mentorship
Access to experienced beekeepers for guidance and support.
Community
Private Membership Group
Friendly, private community of members where any and all questions are welcomed!
It was a great year with you. I really liked the videos in the field and I liked having a quick reference place to go when things didn't look right or we had questions.
Andrea - Course Participant
You both are doing a great job teaching. You both have a clear idea of where the beginning is. That is a really significant accomplishment.
Howard - Course Participant
Not New to Beekeeping?
➔ Don't have a mentor?
➔ Struggling to keep your bees alive?
➔ Been given conflicting advice?
➔ Afraid to ask questions?
➔ Frustrated with lack of results?
➔ Don't understand what you are seeing in your hive?
This program gets amazing results because:
➔ You get detailed classes to review at any time
➔ You get mentorship by experienced beekeepers
➔ You get live sessions where questions are answered in real time
➔ You are in a friendly, supportive community where you are not afraid to ask questions.
Imagine what it will feel like to:
Successfully keep bees alive

Make your own honey

Increase the production of your garden

Marvel at the amazing world of the honeybee

To know you always have the guidance of experienced mentors
What would it be worth to you, to feel like a confident beekeeper?
Here's what it's meant to our members...
"Special thanks to both of You for all the information and knowledge you've given all of us. Now after 2 years of unsuccessful bee keeping I feel that the bee's stand a much better chance to survive the winter, I hate it when they die."
"Thanks, this was a very good video loaded with a lot of important information. I really enjoy these videos."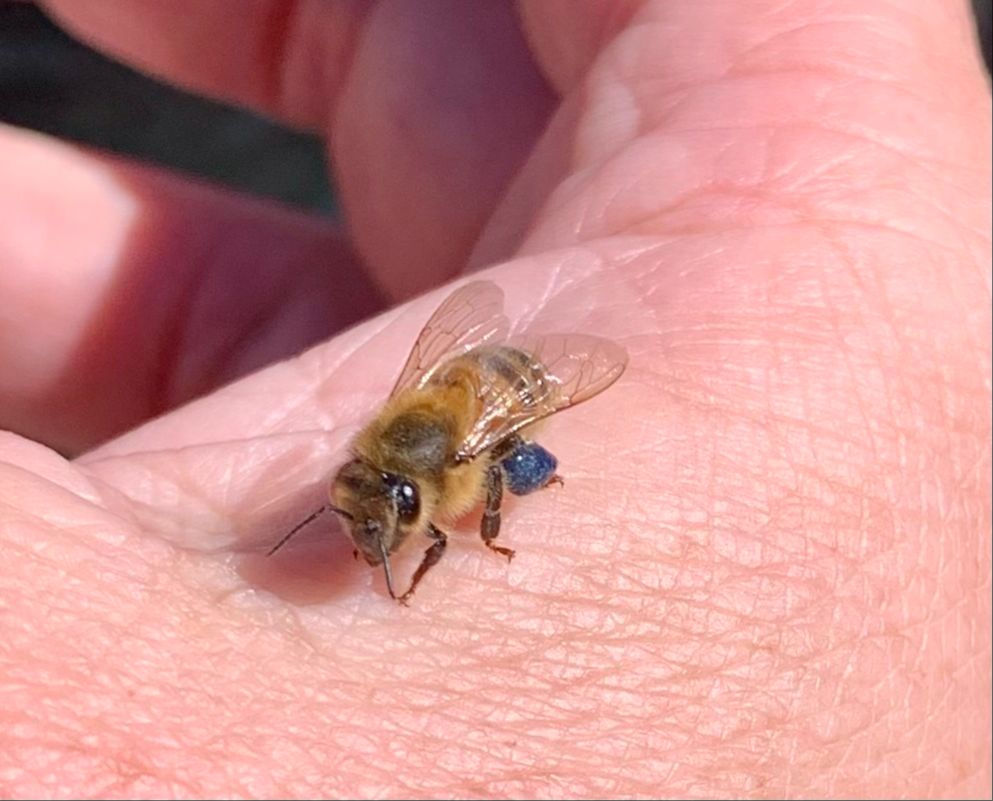 "Special thanks to Peter and Amy for all the lessons and videos they are so valuable, I wouldn't have learned all of that in 20 years on my own, can't wait to get My Saskatraz Bees"
"Learning something new from every lesson thanks"
By joining BEEKEEPING 24/7, you'll be:
More confident and comfortable with your bees


Productive producing honey and a better garden

A member of an amazing group of people

Experience the joy of giving back to the environment
Let's take a look at what's inside BEEKEEPING 24/7 Membership
12 Part Beekeeping Class
This beekeeping class teaches everything you need to know to get started and maintain your own bees. Each video can be watched at your leisure and are always available for you to refer back to.
Mentorship from Experienced Beekeepers
Peter and Amy teach the successful and proven beekeeping management practices that they have developed over decades of experience. They are available to guide members at any time in response to questions or issues they may be having with their bees.
Amazing Community of kind & respectful fellow beekeepers
Unlike most online groups this private group is friendly, respectful and focused on supporting each other. Members interact with each other as well as Peter and Amy and have a lot of fun doing it!
Continuous Learning & Guidance
Peter and Amy frequently share seasonally appropriate instructional and demonstrative information via videos and posts such as; when and what to feed, swarm control, when and how to monitor and treat for mites and much more!
Live Q & A Sessions
In response to some questions posed by members as well as seasonally relevant topics, Peter and Amy host LIVE question and answer sessions to interact in real time with members. Some of these LIVE sessions are conducted in a bee yard "Live in the Hive"!
Instructional Videos and Recorded Q & A Sessions
Live Q&A sessions, videos in response to member questions and additional instructional videos are recorded and available for viewing in a growing library of reference materials.
As a special thank you, members of BEEKEEPING 24/7 are invited to participate in classes offered in person at The Bee Whisperer's honey farm free of charge. These classes are offered by Peter Cowin "The Bee Whisperer" and Amy Nickerson "The Queen Bee"
Here's what's included in
BEEKEEPING 24/7

With this program you will get:
1. FREE Detailed Beekeeping Classes (Value $397)
2. Ability to watch & rewatch classes available at any time and get real time answers (Value-priceless!)
3. FREE Unlimited Access to Mentorship (Valued at $197)
4. Increased Survival of Bees (Cost to replace - $150- $200 per season)
5. Increased honey production = $$
6. Increased Confidence (Priceless)
7. Enjoyment of your time & reduction of your stress (Priceless)
8. Attend in person, hands on beekeeping classes for free = $$$
Total Value Included in your membership = $794 + priceless support and confidence
I've Still Got Questions
No problem - check out the most frequently asked ones below...
How will I get access to all of the materials?
What if I can't make it to one of the live sessions?
What if I don't have Facebook?
What is the refund policy?
What if I have a question not answered here?